2022 PDFA Discflect World Championship Results
Date: 8/6/2022
Location: Buffalo, NY
Class: Major tournament
Host: PDFA
Thank you to all who followed the live stat updates on August 6th
We will have periodic updates throughout the tournament. Please keep checking back for the latest results.
2022 PDFA DISCFLECT WORLD CHAMPIONS
Charles Rizzo & Ajay Cybulski
Young Guns, composed of Charles Rizzo and Ajay Cybulski, claimed their 3rd Discflect World title on August 6th at the 2022 PDFA Discflect World Championship.
After winning every game in Pool Play and all the way through Bracket Play in the Pro Division, Young Guns battled with 2-time World Champions, Stallion Survivors in the Pro Finals, winning an entertaining series that went the distance to Game 7. In winning their 3rd title, they move into a tie for second place in all-time team discflect World titles. See Discflect World Champions.
FINAL TEAM RANKS AND STATS COMING SOON! Pool Play results and Bracket Placement is finalized.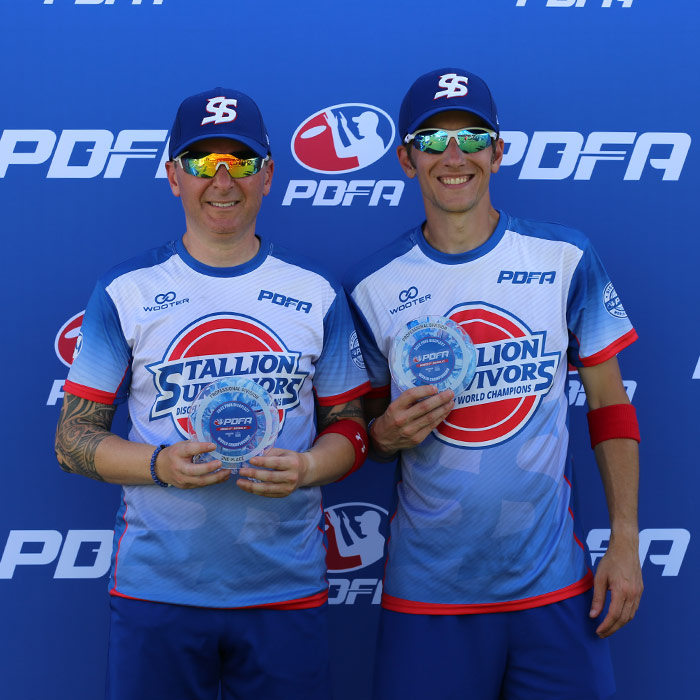 Jon Sandino & Eric Klavoon
Matt Nelson & Shane Nelson
2022 PDFA DISCFLECT WORLD CHAMPIONS
Jason Wisely & Justin Texido
For the first time ever in the history of discflect, Amateur World Champions were crowned. Big Disc Energy, composed of Jason Wisely & Justin Texido, carried the #3 seed into Bracket Play. They fought their way through the bracket, making it to the Finals.


In the Amateur World Finals, Big Disc Energy took a 3-1 series lead against That Hit Right, before Texido threw a Win Shot to claim the first ever Amateur Discflect World Championship title!


Sam Caquias & Miriah Horn
| Rank | Team Name | GP | W | L | W % | PPR | PPG | RPG | PG | WS | OT GP | OT W | OT L | OT W% |
| --- | --- | --- | --- | --- | --- | --- | --- | --- | --- | --- | --- | --- | --- | --- |
| 1 | Stallion Survivors | 10 | 8 | 2 | 0.800 | 3.98 | 20.30 | 5.10 | 1 | 0 | 0 | 0 | 0 | 0.000 |
| 2 | Free Jamples | 10 | 7 | 3 | 0.700 | 3.49 | 19.20 | 5.50 | 0 | 0 | 4 | 3 | 1 | 0.750 |
| 3 | PHILorkus | 10 | 7 | 3 | 0.700 | 3.61 | 20.40 | 5.70 | 0 | 0 | 1 | 1 | 0 | 1.000 |
| 4 | The Zoo | 10 | 6 | 4 | 0.600 | 3.60 | 19.80 | 5.50 | 0 | 0 | 1 | 0 | 1 | 0.000 |
| 5 | Matteson Brothers | 10 | 6 | 4 | 0.600 | 3.70 | 19.60 | 5.30 | 0 | 0 | 2 | 2 | 0 | 1.000 |
| 6 | Buffalo Nightriders | 10 | 5 | 5 | 0.500 | 3.20 | 16.80 | 5.30 | 0 | 2 | 1 | 0 | 1 | 0.000 |
| 7 | The Frisbeasts | 10 | 5 | 5 | 0.500 | 2.99 | 17.50 | 5.90 | 0 | 2 | 1 | 1 | 0 | 1.000 |
| 8 | 732 Boyz | 10 | 3 | 7 | 0.300 | 2.55 | 14.90 | 5.90 | 0 | 1 | 2 | 1 | 1 | 0.500 |
| 9 | Return of the Giraffe | 10 | 3 | 7 | 0.300 | 2.79 | 17.70 | 6.40 | 0 | 0 | 3 | 0 | 3 | 0.000 |
| 10 | Compound Bee | 10 | 3 | 7 | 0.300 | 3.14 | 17.40 | 5.60 | 0 | 0 | 1 | 0 | 1 | 0.000 |
| 11 | Disco Fever | 10 | 2 | 8 | 0.200 | 2.97 | 18.10 | 6.10 | 0 | 0 | 0 | 0 | 0 | 0.000 |
| Rank | Team Name | GP | W | L | W % | PPR | PPG | RPG | PG | WS | OT GP | OT W | OT L | OT W% |
| --- | --- | --- | --- | --- | --- | --- | --- | --- | --- | --- | --- | --- | --- | --- |
| 1 | Young Guns | 11 | 11 | 0 | 1.000 | 4.95 | 20.50 | 4.10 | 3 | 1 | 2 | 2 | 0 | 1.000 |
| 2 | No Big Deal | 11 | 8 | 3 | 0.727 | 3.87 | 19.40 | 5.00 | 0 | 0 | 1 | 1 | 0 | 1.000 |
| 3 | The Showstoppers | 11 | 8 | 3 | 0.727 | 3.52 | 20.50 | 5.80 | 0 | 0 | 3 | 1 | 2 | 0.333 |
| 4 | Buffalo Backers | 11 | 7 | 4 | 0.636 | 3.63 | 19.60 | 5.40 | 0 | 0 | 2 | 0 | 2 | 0.000 |
| 5 | The Benchwarmers | 11 | 7 | 4 | 0.636 | 3.68 | 19.10 | 5.20 | 0 | 0 | 3 | 1 | 2 | 0.333 |
| 6 | Total Discheads | 11 | 5 | 6 | 0.455 | 3.20 | 18.90 | 5.90 | 0 | 0 | 0 | 0 | 0 | 0.000 |
| 7 | John A Llama Ding Dong | 11 | 5 | 6 | 0.455 | 2.74 | 17.50 | 6.40 | 0 | 0 | 1 | 1 | 0 | 1.000 |
| 8 | Chalex | 11 | 5 | 6 | 0.455 | 3.14 | 17.80 | 5.70 | 0 | 0 | 0 | 0 | 0 | 0.000 |
| 9 | Tapparroo | 11 | 5 | 6 | 0.455 | 2.75 | 18.00 | 6.50 | 0 | 0 | 2 | 1 | 1 | 0.500 |
| 10 | Kan Kings | 11 | 3 | 8 | 0.273 | 2.37 | 15.30 | 6.50 | 0 | 0 | 0 | 0 | 0 | 0.000 |
| 11 | The Frisbros | 11 | 2 | 9 | 0.182 | 2.56 | 15.50 | 6.00 | 0 | 0 | 0 | 0 | 0 | 0.000 |
| 12 | Buttermilk | 11 | 0 | 11 | 0.000 | 1.75 | 11.60 | 6.60 | 0 | 0 | 0 | 0 | 0 | 0.000 |
| Rank | Team Name | GP | W | L | W % | PPR | PPG | RPG | PG | WS | OT GP | OT W | OT L | OT W% |
| --- | --- | --- | --- | --- | --- | --- | --- | --- | --- | --- | --- | --- | --- | --- |
| 1 | Tune Squad | 10 | 9 | 1 | 0.900 | 2.72 | 20.40 | 7.50 | 0 | 0 | 0 | 0 | 0 | 0.000 |
| 2 | Double Deuce | 10 | 8 | 2 | 0.800 | 2.56 | 20.00 | 7.80 | 0 | 0 | 0 | 0 | 0 | 0.000 |
| 3 | Big Disc Energy | 10 | 8 | 2 | 0.800 | 2.72 | 20.10 | 7.40 | 0 | 0 | 1 | 1 | 0 | 1.000 |
| 4 | 2 Bros 20 Toes | 10 | 7 | 3 | 0.700 | 2.56 | 18.70 | 7.30 | 0 | 0 | 0 | 0 | 0 | 0.000 |
| 5 | What the | 10 | 6 | 4 | 0.600 | 2.57 | 19.00 | 7.40 | 0 | 0 | 2 | 0 | 2 | 0.000 |
| 6 | Ebony & Ivory | 10 | 4 | 6 | 0.400 | 2.03 | 15.60 | 7.70 | 0 | 0 | 0 | 0 | 0 | 0.000 |
| 7 | That hit right | 10 | 4 | 6 | 0.400 | 2.36 | 17.90 | 7.60 | 0 | 0 | 1 | 1 | 0 | 1.000 |
| 8 | H & H | 10 | 3 | 7 | 0.300 | 1.61 | 12.40 | 7.70 | 0 | 0 | 0 | 0 | 0 | 0.000 |
| 9 | Double Trouble | 10 | 3 | 7 | 0.300 | 2.08 | 15.30 | 7.40 | 0 | 0 | 0 | 0 | 0 | 0.000 |
| 10 | The Jellyfish | 10 | 2 | 8 | 0.200 | 1.44 | 11.20 | 7.80 | 0 | 0 | 0 | 0 | 0 | 0.000 |
| 11 | And they were roommates | 10 | 1 | 9 | 0.100 | 1.27 | 9.90 | 7.80 | 0 | 0 | 0 | 0 | 0 | 0.000 |
Pro: Bracket Seeds / Final Pool Results
| Seed | Team Name | GP | W | L | W % | PPR | PPG | RPG | PG | WS | OT GP | OT W | OT L | OT W% |
| --- | --- | --- | --- | --- | --- | --- | --- | --- | --- | --- | --- | --- | --- | --- |
| 1 | Young Guns | 11 | 11 | 0 | 1.000 | 4.95 | 20.50 | 4.10 | 3 | 1 | 2 | 2 | 0 | 1.000 |
| 2 | Stallion Survivors | 10 | 8 | 2 | 0.800 | 3.98 | 20.30 | 5.10 | 1 | 0 | 0 | 0 | 0 | 0.000 |
| 3 | No Big Deal | 11 | 8 | 3 | 0.727 | 3.87 | 19.40 | 5.00 | 0 | 0 | 1 | 1 | 0 | 1.000 |
| 4 | Free Jamples | 10 | 7 | 3 | 0.700 | 3.49 | 19.20 | 5.50 | 0 | 0 | 4 | 3 | 1 | 0.750 |
| 5 | The Showstoppers | 11 | 8 | 3 | 0.727 | 3.52 | 20.50 | 5.80 | 0 | 0 | 3 | 1 | 2 | 0.333 |
| 6 | PHILorkus | 10 | 7 | 3 | 0.700 | 3.61 | 20.40 | 5.70 | 0 | 0 | 1 | 1 | 0 | 1.000 |
| 7 | Buffalo Backers | 11 | 7 | 4 | 0.636 | 3.63 | 19.60 | 5.40 | 0 | 0 | 2 | 0 | 2 | 0.000 |
| 8 | The Zoo | 10 | 6 | 4 | 0.600 | 3.60 | 19.80 | 5.50 | 0 | 0 | 1 | 0 | 1 | 0.000 |
| 9 | The Benchwarmers | 11 | 7 | 4 | 0.636 | 3.68 | 19.10 | 5.20 | 0 | 0 | 3 | 1 | 2 | 0.333 |
| 10 | Matteson Brothers | 10 | 6 | 4 | 0.600 | 3.70 | 19.60 | 5.30 | 0 | 0 | 2 | 2 | 0 | 1.000 |
| 11 | Buffalo Nightriders | 10 | 5 | 5 | 0.500 | 3.20 | 16.80 | 5.30 | 0 | 2 | 1 | 0 | 1 | 0.000 |
| 12 | Total Discheads | 11 | 5 | 6 | 0.455 | 3.20 | 18.90 | 5.90 | 0 | 0 | 0 | 0 | 0 | 0.000 |
| 13 | The Frisbeasts | 10 | 5 | 5 | 0.500 | 2.99 | 17.50 | 5.90 | 0 | 2 | 1 | 1 | 0 | 1.000 |
| 14 | John A Llama Ding Dong | 11 | 5 | 6 | 0.455 | 2.74 | 17.50 | 6.40 | 0 | 0 | 1 | 1 | 0 | 1.000 |
| 15 | Chalex | 11 | 5 | 6 | 0.455 | 3.14 | 17.80 | 5.70 | 0 | 0 | 0 | 0 | 0 | 0.000 |
| 16 | 732 Boyz | 10 | 3 | 7 | 0.300 | 2.55 | 14.90 | 5.90 | 0 | 1 | 2 | 1 | 1 | 0.500 |
| 17 | Tapparroo | 11 | 5 | 6 | 0.455 | 2.75 | 18.00 | 6.50 | 0 | 0 | 2 | 1 | 1 | 0.500 |
| 18 | Return of the Giraffe | 10 | 3 | 7 | 0.300 | 2.79 | 17.70 | 6.40 | 0 | 0 | 3 | 0 | 3 | 0.000 |
| 19 | Compound Bee | 10 | 3 | 7 | 0.300 | 3.14 | 17.40 | 5.60 | 0 | 0 | 1 | 0 | 1 | 0.000 |
| 20 | Kan Kings | 11 | 3 | 8 | 0.273 | 2.37 | 15.30 | 6.50 | 0 | 0 | 0 | 0 | 0 | 0.000 |
| 21 | Disco Fever | 10 | 2 | 8 | 0.200 | 2.97 | 18.10 | 6.10 | 0 | 0 | 0 | 0 | 0 | 0.000 |
| 22 | The Frisbros | 11 | 2 | 9 | 0.182 | 2.56 | 15.50 | 6.00 | 0 | 0 | 0 | 0 | 0 | 0.000 |
| 23 | Buttermilk | 11 | 0 | 11 | 0.000 | 1.75 | 11.60 | 6.60 | 0 | 0 | 0 | 0 | 0 | 0.000 |
Am: Bracket Seeds / Final Pool Results
| Seed | Team Name | GP | W | L | W % | PPR | PPG | RPG | PG | WS | OT GP | OT W | OT L | OT W% |
| --- | --- | --- | --- | --- | --- | --- | --- | --- | --- | --- | --- | --- | --- | --- |
| 1 | Tune Squad | 10 | 9 | 1 | 0.900 | 2.72 | 20.40 | 7.50 | 0 | 0 | 0 | 0 | 0 | 0.000 |
| 2 | Double Deuce | 10 | 8 | 2 | 0.800 | 2.56 | 20.00 | 7.80 | 0 | 0 | 0 | 0 | 0 | 0.000 |
| 3 | Big Disc Energy | 10 | 8 | 2 | 0.800 | 2.72 | 20.10 | 7.40 | 0 | 0 | 1 | 1 | 0 | 1.000 |
| 4 | 2 Bros 20 Toes | 10 | 7 | 3 | 0.700 | 2.56 | 18.70 | 7.30 | 0 | 0 | 0 | 0 | 0 | 0.000 |
| 5 | What the | 10 | 6 | 4 | 0.600 | 2.57 | 19.00 | 7.40 | 0 | 0 | 2 | 0 | 2 | 0.000 |
| 6 | Ebony & Ivory | 10 | 4 | 6 | 0.400 | 2.03 | 15.60 | 7.70 | 0 | 0 | 0 | 0 | 0 | 0.000 |
| 7 | That hit right | 10 | 4 | 6 | 0.400 | 2.36 | 17.90 | 7.60 | 0 | 0 | 1 | 1 | 0 | 1.000 |
| 8 | H & H | 10 | 3 | 7 | 0.300 | 1.61 | 12.40 | 7.70 | 0 | 0 | 0 | 0 | 0 | 0.000 |
| 9 | Double Trouble | 10 | 3 | 7 | 0.300 | 2.08 | 15.30 | 7.40 | 0 | 0 | 0 | 0 | 0 | 0.000 |
| 10 | The Jellyfish | 10 | 2 | 8 | 0.200 | 1.44 | 11.20 | 7.80 | 0 | 0 | 0 | 0 | 0 | 0.000 |
| 11 | And they were roommates | 10 | 1 | 9 | 0.100 | 1.27 | 9.90 | 7.80 | 0 | 0 | 0 | 0 | 0 | 0.000 |
Pro: Final Overall Standings
| Rank | Team Name | GP | W | L | W % | PPR | PPG | RPG | PG | WS | OT GP | OT W | OT L | OT W% |
| --- | --- | --- | --- | --- | --- | --- | --- | --- | --- | --- | --- | --- | --- | --- |
| 1 | Young Guns | | | | | | | | | | | | | |
| 2 | Stallion Survivors | | | | | | | | | | | | | |
| 3 | No Big Deal | | | | | | | | | | | | | |
| 4 | Philorkus | | | | | | | | | | | | | |
| 5 | Free Jamples | | | | | | | | | | | | | |
| 6 | The Benchwarmers | | | | | | | | | | | | | |
| 7 | Matteson Brothers | | | | | | | | | | | | | |
| 8 | Total Discheads | | | | | | | | | | | | | |
| 9 | The Showstoppers | | | | | | | | | | | | | |
| 10 | Buffalo Backers | | | | | | | | | | | | | |
| 11 | The Zoo | | | | | | | | | | | | | |
| 12 | Buffalo Nightriders | | | | | | | | | | | | | |
| 13 | The Frisbeasts | | | | | | | | | | | | | |
| 14 | Chalex | | | | | | | | | | | | | |
| 15 | 732 Boyz | | | | | | | | | | | | | |
| 16 | Compound Bee | | | | | | | | | | | | | |
| 17 | John A Llama Ding Dong | | | | | | | | | | | | | |
| 18 | Tapparroo | | | | | | | | | | | | | |
| 19 | Return of the Giraffe | | | | | | | | | | | | | |
| 20 | Kan Kings | | | | | | | | | | | | | |
| 21 | Disco Fever | | | | | | | | | | | | | |
| 22 | The Frisbros | | | | | | | | | | | | | |
| 23 | Buttermilk | | | | | | | | | | | | | |
Am: Final Overall Standings
| Rank | Team Name | GP | W | L | W % | PPR | PPG | RPG | PG | WS | OT GP | OT W | OT L | OT W% |
| --- | --- | --- | --- | --- | --- | --- | --- | --- | --- | --- | --- | --- | --- | --- |
| 1 | Big Disc Energy | | | | | | | | | | | | | |
| 2 | That hit right | | | | | | | | | | | | | |
| 3 | 2 Bros 20 Toes | | | | | | | | | | | | | |
| 4 | Tune Squad | | | | | | | | | | | | | |
| 5 | Double Deuce | | | | | | | | | | | | | |
| 6 | What the | | | | | | | | | | | | | |
| 7 | Ebony & Ivory | | | | | | | | | | | | | |
| 8 | H & H | | | | | | | | | | | | | |
| 9 | Double Trouble | | | | | | | | | | | | | |
| 10 | The Jellyfish | | | | | | | | | | | | | |
| 11 | And they were roommates | | | | | | | | | | | | | |
Ian Domes & Steve Phillips
Devon Buckland & Dominick Matarese